This example is for a Windows 7 setup, but any OS should be just about the same. Just change the save folder locations and unzipping program to suit your computer.
This is sort of a hidden function that isn't really explained anywhere so I am making a short post with directions of how I enabled it.
If you look on the peers tab you will see an empty column in front the the IP addresses. That is there for country flags, but you need to download a database to make it work.
Here are 2 example screenshots I found in some old posts on this forum.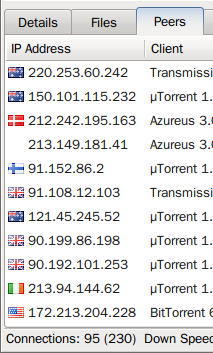 To enable the flags you need to download the database from this website:
http://dev.maxmind.com/geoip/legacy/geolite/
If you just want the direct download link:
http://geolite.maxmind.com/download/geoip/database/GeoLiteCountry/GeoIP.dat.gz
Download and extract that file. I use 7zip to extract it. I am not sure if the normal windows zipper will work on tar.gz or not. 7zip requires you to unzip it twice. The first file you get will be a .tar file and the second with be the .dat file you will need.
Next copy that GeoIP.dat file to anywhere you want on your computer. If you are using the client/server thinclient setup copy it to the daemon side and if not just copy it to your normal computer.
In my case I saved it to the config file: C:\Users\<your user name>\AppData\Roaming\deluge\
Next open up deluge, go to: Preferences->Other and find the GeoIP Database Location box and copy in the location of your file. My example: C:\Users\<your user name>\AppData\Roaming\deluge\GeoIP.dat
Last just restart your client and the dameon and it should start working. Once it is working on the daemon server any client that connects to it will get the flags.
The website says they update their databases on the first Tuesday of every month so if you want it to be more accurate you might want to update the database once in a while.